My etsy store is live… Visit it here!
I am slowly adding my portfolio of creations… Hang tight!
Engineer. Carpenter. Builder. Writer. My name is Cooper Allison. I graduated Valedictorian of Burney High School in June of 2007 and graduated with a B.S. of Civil Engineering from Cal Poly, San Luis Obispo in June of 2012.
I was meant to be an engineer since I was young, as my favorite toys were (and still are) Legos. My future career path went from wanting to be a truck driver / country music artist, to being a lawyer, to being an architect. I realized I wanted to design the inside of the buildings / infrastructure, so I chose Civil Engineering. I received both my Engineer in Training and Land Surveyor in Training on the first testing attempt.
My technical manual is at Amazon.com.
Visit my Portfolio: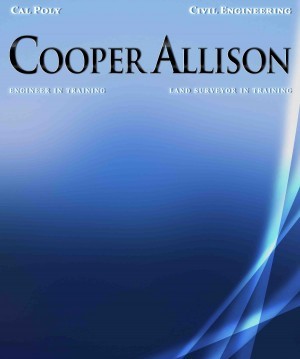 I can be found online:
I am still working on my portfolio, so check back soon!